Cancer Research and the nCounter® Analysis System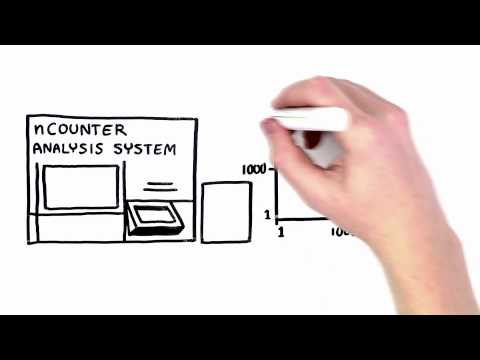 nCounter® PanCancer Pathways Panel
---
Unravel Cancer's Complex Mechanisms to identify new actionable targets
Over the past few decades, large-scale, multidisciplinary efforts such as The Cancer Genome Atlas, The Human Protein Atlas, and the Precision Medicine Initiative have accelerated cancer research by capitalizing on advances in genomics, digital detection, and big data. Faster and more precise research tools enable discoveries that advance understanding of how cancer cells develop, evade the immune system, and progress. Through understanding cancer on a cellular and molecular level, researchers have made great strides in precision medicine for oncology. Researchers are conducting studies using gene expression panels to gain insight into the signaling pathways implicated in cancer activity and therapeutic response. Narrowing the genes, including driver genes, that are responsible for controlling these various pathways and learning how to exploit them will allow for the development of novel treatments.
Immuno-oncology, for example, explores the interaction between tumor cells and the immune system to reveal promising new therapeutic targets that induce the desired immune response.
With a broader and deeper understanding of the biology and pathway activity of cancer, scientists are better equipped to identify, characterize, and target biomarkers for cancer that can be translated for clinical applications.
To make the next leap in understanding, scientists will need tools that allow them to measure DNA, RNA, and protein simultaneously and with spatial resolution.
Multiplexed Cancer Pathways
In this white paper, "Multiplexed cancer pathway analysis using nCounter® PanCancer Pathways Panel", we highlight the ability within the nCounter PanCancer Pathways Panel to provide a valuable lens through which to examine cancer biology. Pathway-based analyses provide a holistic approach to studying the deregulation of molecular pathways impacted by mutational events as well as monitoring expression of driver genes to gain a complete understanding of the biology underlying cancer.
Multi-analyte Profiling in Cancer Biology
In this White Paper, "Employing multi-analyte profiling to deepen our understanding of cancer biology" we review three Case Studies that perform multi-analyte characterization of critical cellular pathways that impact therapeutic efficacy in oncology. Challenges in integrating multiple analytical methodologies are also discussed, which inspired the development of novel 3D Biology™ Technology at NanoString to expand and simplify multi-analyte analysis of tumors and their microenvironment.
Perspectives on Oncology
Join our chief medical officer, Alessandra Cesano, MD, PhD, as she discusses the latest developments in immuno-oncology research and the impact on precision medicine in the 4-part blog series: Perspectives on Immuno-Oncology.
Ng S.W.K. et al., "A 17-gene stemness score for rapid determination of risk in acute leukaemia" Nature [Epub ahead of print]. December 07, 2016
Braso-Maristany F. et al., "PIM1 kinase regulates cell death, tumor growth and chemotherapy response in triple-negative breast cancer" Nat. Med. [Epub ahead of print]. October 24, 2016
Brant R.J. et al., "Clinically Viable Gene Expression Assays with Potential for Predicting Benefit from MEK Inhibitors." Clin. Can. Res. [Epub ahead of print]. October 12, 2016
Norton N. et al., "Assessment of Tumor Heterogeneity, as Evidenced by Gene Expression Profiles, Pathway Activation, and Gene Copy Number, in Patients with Multifocal Invasive Lobular Breast Tumors." PLoS ONE [Epub ahead of print]. April 14, 2016
Veldman-Jones M. et al. "Reproducible, quantitative and flexible molecular sub-typing of clinical DLBCL samples using the NanoString nCounter system." Clin. Cancer Res. [Epub ahead of print]. October 09, 2014
Scott D.W. et al., "Determining cell-of-origin subtypes of diffuse large B-cell lymphoma using gene expression in formalin-fixed paraffin embedded tissue." Blood [Epub ahead of print]. January 07, 2014
Northcott PA, et al., "Rapid, reliable, and reproducible molecular sub-grouping of clinical medulloblastoma samples" Acta Neuropathologica 123(4): 615-26. November 06, 2011

Or click here to view all nCounter publications on Oncology.
For Research Use Only. Not for use in diagnostic procedures.